First published on October 6, 2012
Screenr is a screencast creation and sharing website that I highly recommend.
At my job as web developer at Mugo Web, we use Screenr to record screencasts and share them. We use it to demo new features on client sites, record "how-to" documentation, and even facilitate communication within the team when team members are not in the same location. When Screenr is suitable for the task, it saves a lot of time versus writing up instructions and taking screenshots, and clients prefer the richer medium of video.
Screenr's usage is not limited to the work environment; for example, it is also handy for recording instructions to family members on exactly where to click to perform tasks on their computer!
When I was first looking into creating videos of my computer screen, I assumed that you had to split the steps into: installing a program to create the recording (such as Wink or Camtasia, then uploading the video onto a streaming service such as YouTube or Vimeo (or uploading it to your own hosting account and setting up a video player).
Screenr does the recording, uploading, hosting, and streaming via a seamless process. To use Screenr, you only need to be running Java, therefore you don't have to install a typical desktop program. It works on Windows, Mac, and Linux.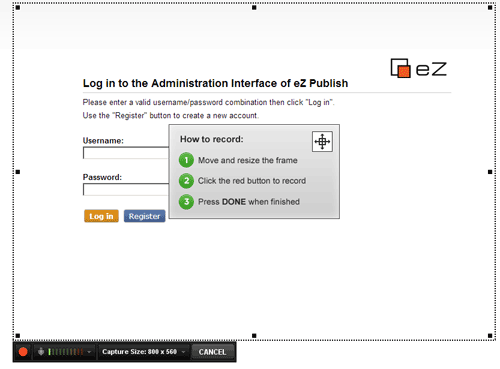 Once you've launched the recorder from their website, you size the recording frame as desired, hit record, do whatever you need to do (with or without audio), then click "Done". Then it will automatically encode and upload the video for you. The process is incredibly straightforward (so much so that their "just click record" slogan is very representative), and I have never had to waste any time fiddling with the controls or trying to figuring out why some element isn't working.
You can then share the video by sending recipient(s) a link.
Screenr has a free account that allows you to record 5-minute videos and have them all publicly available. There are business accounts starting at $19 USD / month that have a 15-minute limit per video and allow you to make videos private, among other features.
Recorded videos on Screenr are quite high quality (check out the public stream for a wide assortment of example videos uploaded in the past few hours) and playable via Flash or HTML5. You can download any of your own videos in mp4 format.
Screenr doesn't have any fancy features such as video editing, but it does the job that it's designed to do incredibly well.