First published on October 10, 2010
Adobe Acrobat (not the reader) is the standard PDF editor and manipulator, enabling you to create PDFs, edit text and other elements in PDFs, delete, extract, and merge pages, grayscale PDFs, and much more. Unfortunately, it's far from free, costing a few hundred dollars.
There are a lot of free programs that can create PDFs. For me, other than creating PDFs, the PDF task I need to do most often is to concatenate them: adding appendices and other attachments to PDFs generated from other programs. One of the free PDF "printers", PrimoPDF, can also concatenate PDFs.
To append something to another PDF using PrimoPDF, first initiate a create action as per normal, then when prompted to choose a file or filename, browse to the file to which you want to append (as if you are saving over it). It will then give you a choice to override or append.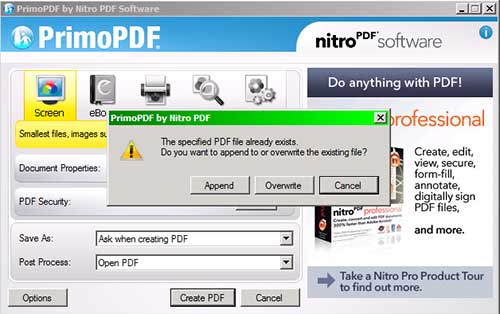 Since PrimoPDF only appends, but cannot prepend or insert before or after a specific page, you have to get a bit creative if you have more sophisticated needs by "PDFing" existing PDFs, or creating PDFs multiple times according to the specific page ordering required. However, you could also look for free or cheaper-than-Abobe alternatives, such as the appropriately-named PDF Split and Merge and the fully-featured NitroPDF, from the makers of PrimoPDF.
And as for editing PDFs, check out the free tools Nitro PDF to Word, Nitro PDF to Excel, and the OpenOffice.org PDF import extension.