First published on June 21, 2014
After having played indoor roller hockey for many years, I needed to replace my rollerblade (or "inline skate") wheels and the accompanying screws.
I purchased some new wheels and bearings at The Hockey Shop in Surrey and had a good experience there. Unfortunately, my old screws were still coming loose every game. I could either buy some thread lock material to apply to the existing screws or buy some new screws. I waited too long and some of the threads got warped, so I decided to just buy some new screws.
At first, I couldn't find a store that sold screw and axle kits for rollerblade wheels. In fact, someone at Sportchek told me that I shouldn't even bother trying, as no one would carry such replacement screws for my old Mission skates anymore.
Thankfully, I found Coast to Coast Hockey Shop, which is a Vancouver-based online store that sells all sorts of inline hockey accessories, including wheels, bearings, bearing lubricant, tape, stick tape, and yes, screw / axle / bolt kits: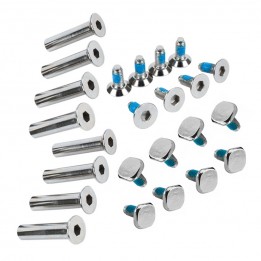 The owner, Sean, ships fast and even hand delivers sometimes in the Vancouver area (which is what happened to me). He was responsive, friendly, eager to listen to my needs, and seems to really know his stuff about all things roller hockey.
I found the Coast to Coast Hockey Shop website easy to use and full of great prices, and I highly recommend it. Sean is working on opening a retail store in Vancouver at some point soon (Update: Sean's store location is 1685 Kingsway in Vancouver, which is a very useful resource for indoor and outdoor inline skaters. He's continued to provide great advice and products to me for almost 10 years.)