First published on February 12, 2013
Would you pay $45 for a really good reusable water bottle?

The Square is a stainless steel bottle, and the main feature that makes it different is that it opens at the top and the bottom. This makes it much easier to clean. It holds about 560mL (20 ounces). Currently (February 2013), you can only purchase it online.

This is what the bottom of the bottle looks like when the bottom cap is twisted off: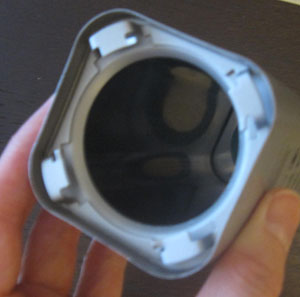 Clean Bottle, which is the company that makes The Square, makes a cheaper, $10 plastic bottle that also opens at the top and the bottom.
The concept is rather brilliant yet simple. Clean Bottle owns a patent on the design; on the one hand, this is fair, but on the other hand every reusable bottle could benefit from that! Cleaning regular water bottles is hard because of the small-ish spout and the inability to reach to the bottom. It can get quite disgusting at the bottom of a bottle. There are of course alternative cleaning solutions, such as using a long-necked scrubber: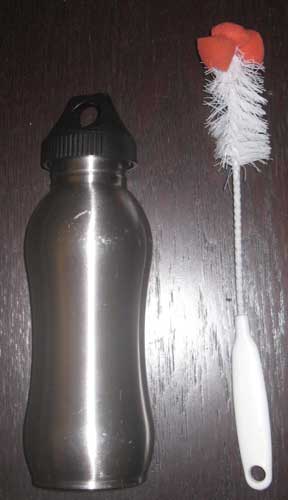 The square design of the bottle is also intended to help it pack better and prevents the bottle from rolling on the ground when it is dropped. There are other self-proclaimed features about the bottle, and you can find out more about them in the promotional video, which might seem unintentionally farcical.
There are a couple of potential drawbacks regarding The Square. The durability of the plastic elements — the lip and the bottom — is questionable. However, it's supposedly "guaranteed for life".
Also, due to the fact that the inside of the bottle has square corners, it is difficult to get the last drops of water out.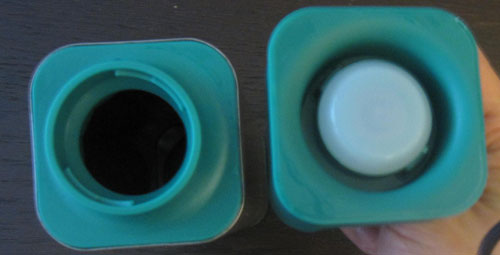 The Square is indeed easy to clean, it's comfortable to port around, and it fits in car and side pocket cup holders. If you care a lot about reusable water bottles or if you're a hipster, this could be the bottle for you. Most people probably think that $45 is a crazy amount to pay for a bottle, but arguably it is still a bargain if you compare its cost to regularly buying throwaway water bottles.