I've had a Writely account for a while but haven't really done much about it until now. It can be quite handy to collaborate on documents with other people (in real time, no less).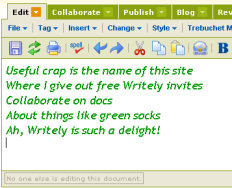 Anyway, Google does a good job about keeping projects in Beta and increasing hype by limiting sign-ups. I don't know how many people I can invite to Writely… if you want to check it out, leave a comment on this post and I'll send you an invite. Write your e-mail address in the e-mail field — it won't be publicly posted.
Also, if you need to collaborate on spreadsheets (read: tough assignments if you're a student), check out Google Spreadsheets. You don't even need an invite for that.
—————————————–
Update: looks like Google has fully integrated Writely into its Documents and Spreadsheets and all you need to sign up is a Google account (which is free).