First published on September 19, 2009
One of PayPal's recent fee structure changes makes it clearer and simpler for people to transfer money to each other for non-business purposes.
Now, the sender can choose the type of payment they are sending. If it is a "personal" payment funded by a bank account, the recipient will not be charged a fee regardless of whether they have a Personal or Premier account (I have both types, which has sometimes caused confusion and resulted in more fees).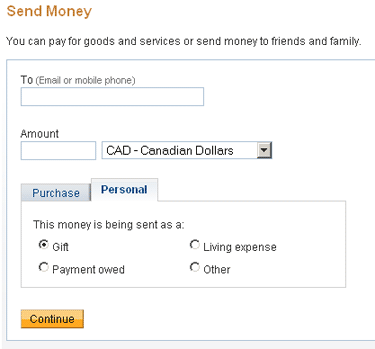 For those who are familiar with the old way of doing things with PayPal, if you had a Premier account that also accepts credit cards, you would be charged a fee on every payment you receive, even if it were funded directly from a bank account. Now, there is a clear distinction between a business transaction and a personal transaction (and the fees associated with them) without you having to maintain two PayPal accounts, two bank accounts, possibly two credit cards, etc. Business transactions incur fees; personal transactions do not.
A bit of background for those who are unfamiliar with PayPal: first, you link your chequing account to your PayPal account (similar to how you set up direct deposits and direct debits). Then, when you send money funded by a bank account, if goes to the recipient's PayPal account — not directly into their bank account. To get money out of a PayPal account, you can either withdraw it to your bank account or send it to someone else's PayPal account.
But there is a fee at some point
PayPal does charge a fee for personal transfers at some point — when you want to withdraw your money from your PayPal account to your bank account. If you are withdrawing less than $150, you will pay a $0.50 fee. If you are withdrawing more than $150, there is no fee.
However, this is cheaper than Interac Email Money Transfers, where the sending bank often charges you $1.50, and then the recipient might even be charged to receive the money.
Also, with PayPal you have the option to accumulate $150 in your account before withdrawing, in order to avoid the fee. The trade-off is the interest you would have earned in your bank account, since PayPal does not pay you interest. That's about $0.25 on every $150 for every month your money sits in your PayPal account, assuming your bank would have paid you 2% in interest.
Since Citizens Bank is closing and I can't force my friends and family to all choose the same new bank, maybe we can start using PayPal to pay each other back for things… until a truly free inter-bank electronic transferring system comes along!