First published on November 15, 2009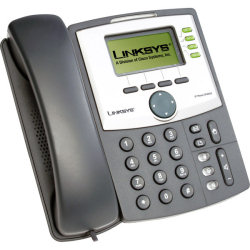 Recently, I moved a Linksys SPA942 VoIP phone to a new physical location and network. Portability and customizability being some of the advantages of VoIP in general, they can also get you into trouble when you fiddle with the settings.
I troubleshooted a couple of issues and here are some notes to help others who might be similarly flailing. The notes below assume that you know your phone's IP address and that its web interface is enabled. Both of these things are well explained in the phone's manual.
Got other problems? Talk to your VoIP provider first, then check the Linksys Community Forums. And be sure to document any settings you've changed as you go so that you don't create new problems.
Upgrading firmware
Before upgrading your phone's firmware, make sure you actually need to upgrade the firmware. There's no use upgrading something that isn't broken and where the new version does not contain any new features that you need.
That being said, you can download new firmware from here [source]. You might need to upgrade first to the 5.x version and then to the 6.x version.
The firmware package comes with an executable program that can push the update to your phone's IP. This works well, but you might have problems in sending the firmware file to your phone if your network has a restrictive or complicated firewall (you might get the message "Upgrade Failed: No Response From SPA"). You can alternatively push the firmware file by accessing "http://phoneipaddress/admin/upgrade?http://addresstofirmware". For example: "http://192.168.2.100/admin/upgrade?http://www.yoursite.com/spa942-6-1-5a.bin". You'll need a publicly accessible URL for the firmware file, and if you don't have a hosting account or Dropbox, there are many free file hosting services available.
Stuck on "Answering…"
If you can make outgoing calls fine (both sides can hear each other), the phone rings for incoming calls, but for incoming calls neither side can hear each other OR only one side can communicate (and the phone is stuck with the message "Answering…"), check the "Display Name" setting for that extension. You might have to fix some incompatible syntax (it should usually just be your name, like "Yann Martel"), or you might have to leave that setting blank.
Lost connection after each call
After hanging up each call (which was perfectly clear), the line would lose its connection to the VoIP server and I'd have to reboot the phone to make or receive another call. The solution was to make "NAT Keep Alive Msg" empty (instead of "$NOTIFY") for each relevant phone extension.