First published on April 14, 2012
XE Trade is an online currency exchange service by the currency rate information site xe.com. It can be used for business and personal reasons, to exchange money between your own accounts or to send money to people in foreign countries and foreign currencies. This review is from the standpoint of a Canadian buying US dollars for personal use.
Why use XE Trade
The premise is that XE Trade would offer better rates and be more convenient than a bricks and mortar money changer, such as Vancouver Bullion Currency Exchange or Benny Lee & Co.
Regarding rates, this is true most of the time. I've seen XE Trade offer rates that are between 0.7 and 2.0 cents off the mid-rate listed on xe.com, with a tendency for the higher range on the weekend. This should be always better than everyday bank exchange rates and most of the time better than the other currency exchange specialists. There are no transaction fees.
The requirement to use XE Trade is that you have CAD and USD accounts, so that you can send XE Trade Canadian dollars and have XE Trade deposit US dollars directly into the relevant account. Of course, if you want US cash you'll still have to go to your bank to withdraw the money after it was deposited. (And in the spirit of being obvious, if you're paying USD expenses electronically, you don't require the extra step of going to your bank.) Also, it takes a few days between initiating the transaction with XE Trade and having the US dollars back in your account.
You also have to provide XE Trade a lot of personal information in the sign up process, as detailed below. You do not have to provide any information to face-to-face money changers.
Therefore, for small transactions, it is arguable as to whether it is more convenient to use XE Trade and if not, whether it is worth the small savings. Higher volume and dollar amount transactions for business can more easily see the benefits!
Generally, however, XE Trade works about as well as can be expected by an online, third party currency exchange service. Each person's needs and preferences will determine whether XE Trade is worth using.
Signing up
The signup process is straightforward and quick, although you have to provide a lot of information, comparable to the amount of information that is required when you are opening a new bank account. In addition to basic name, address, and other contact information, you have to state the reason for which you will be using the service.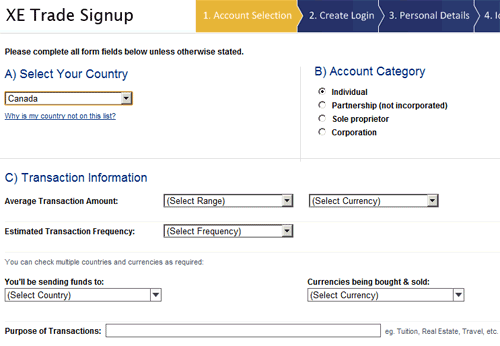 You also have to provide 2 pieces of identification, including at least one of a passport and a driver's license: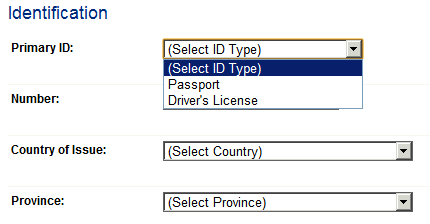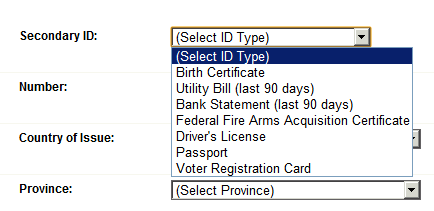 For Canadian residents, you also have to submit an electronic copy of a recent bank statement: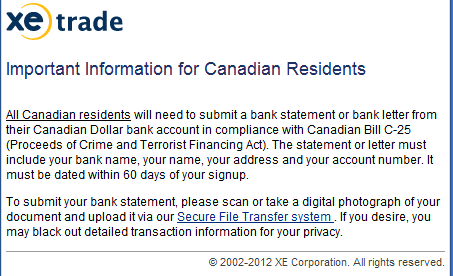 You then have to wait for your new account to be approved, although in my case this happened the same day.
Making a trade
At any time, you can get a current rate quote before making a trade. The rate is changes in real-time, although once you've started the process of making a trade, the rate is held for 40 seconds and locked in when you've placed the bid (before sending any money).

Before starting a trade you'll want to set up your recipient bank account. This is quite simple, you just have to enter the bank information, account number, and transit number.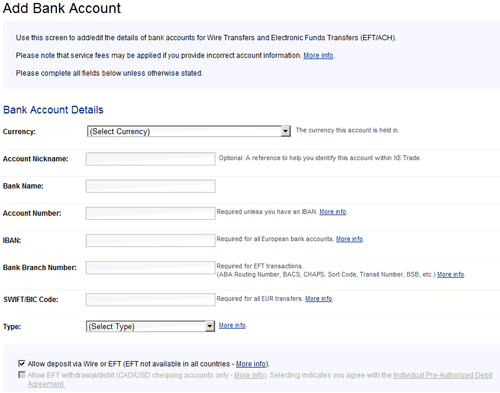 Then, you can set up the trade by entering the amount to trade, the source and destination currencies, your payment method, and the delivery method: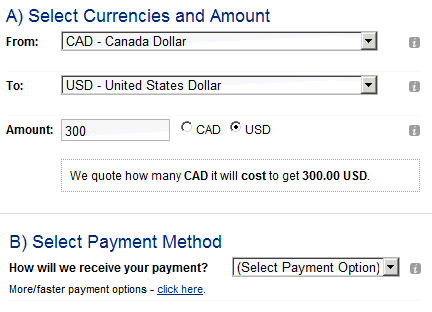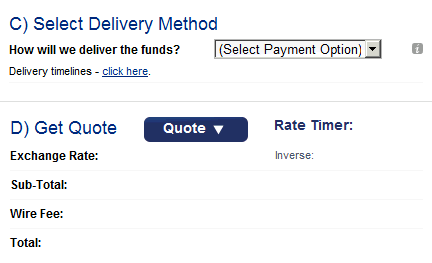 The delivery method can be a wire transfer or electronic funds transfer (EFT), both being free on the XE Trade end, and the latter being more likely to be free on the receiving bank end.
As for the payment method, you can choose "Wire" and then pay via your bank's online bill payment service, selecting "Custom House Currency Exchange" as the payee and using your XE Trade account number.

Timeline
The following is the timeline that it took for me to sign up with XE Trade and complete and entire exchange:
Day 1, morning: Registered for an account.
Day 1, mid-afternoon: Account was activated.
Day 2, morning: Submitted a trade and made a bill payment to send the money to XE Trade
Day 3, morning: Informed via e-mail that XE Trade had received my Canadian dollar payment and sent the US dollar equivalent.
Day 5, mid-day: US dollars showed up in my account, although dated Day 4, presumably due to some internal routing at the bank.
2015 update: Consider also CanadianForex, which I have now reviewed.