FareSavers are the prepaid transit tickets bought in packets of 10 for use on Metro Vancouver's buses and SkyTrains.
I quickly asked a handful of people about whether FareSavers are recyclable and they were all unsure, and all of them, including me, got it wrong.
According to TransLink, the outer booklet is recyclable:
… but the individual tickets are not due to the magnetic stripe.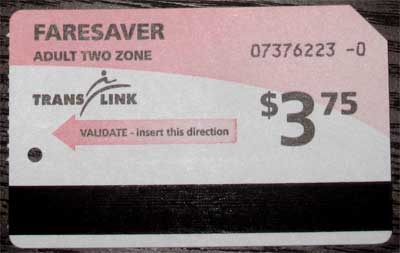 I suppose you could tear off the magnetic stripe to throw away and recycle the rest.
Extra related note: if you're coming back to Vancouver via the YVR airport and planning to take the Canada Line SkyTrain, be sure to bring a FareSaver or purchase a booklet or pass at the 7-Eleven in the airport; the machines at the airport charge an extra $5 for an individual ticket.